Home Lands Holding Partners With HNB To Revitalize The Industry Post COVID And Economic Downturn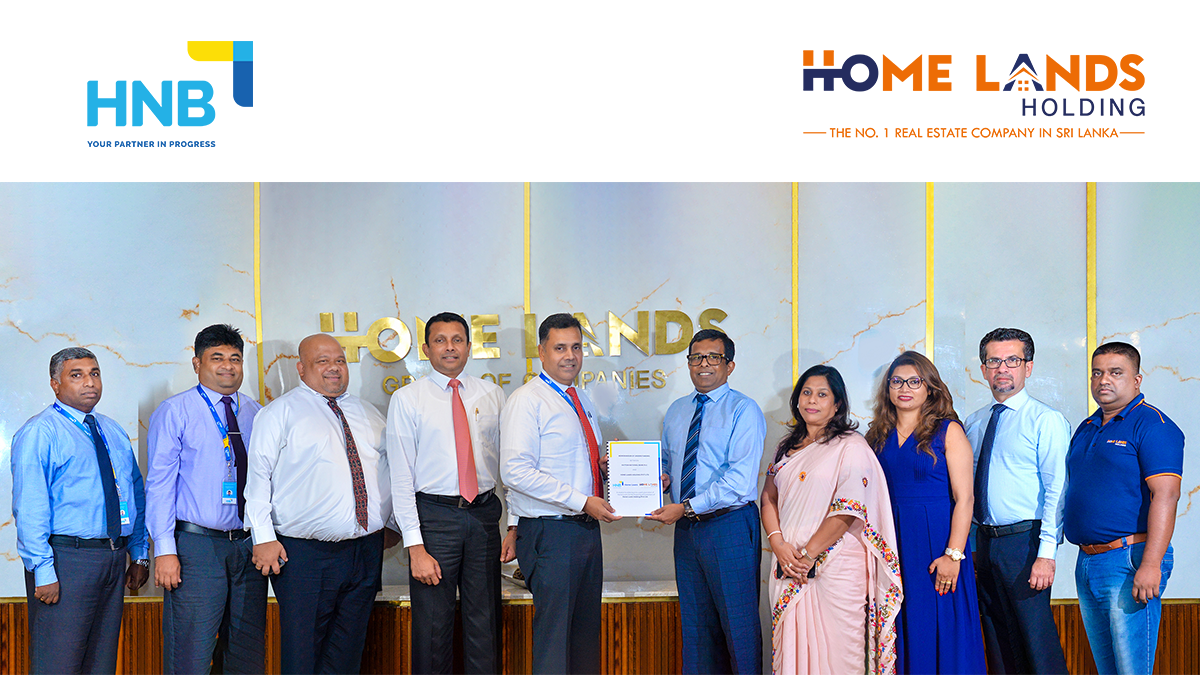 Home Lands Holding, a pioneering leader of the real estate sector in Sri Lanka, entered into a partnership with Hatton National Bank PLC recently in order to provide potential customers with special interest rates for loan facilities. The real estate sector being adversely affected by the pandemic as well as the economic downturn has been struggling to revive for the past couple of years. Providing its customers with the best properties as well as the most attractive facilities, Home Lands Holding continues to be the most preferred real estate partner of the nation, strengthening and revitalizing the industry.
Following the three-decade long civil war, the real estate industry in Sri Lanka showed a rapid growth. The growth rate of urbanization that has been negative for years increased up to 0.3% within just five years post-war. Nevertheless, the steady growth was unexpectedly and badly hit by the pandemic and the negative impacts further continued owing to the economic chaos that followed. Since the outbreak of the Covid 19 pandemic, the real estate industry has been facing many difficulties. Property as well as construction material prices skyrocketing, the loan interest rates continuing to rise, downsizing and wage reductions within organizations leading to delayed real estate related decisions and many other adverse effects hindered the growth of the industry. Taking these aspects into consideration, with the objective of revitalizing the real estate industry, Home Lands Holding together with HNB offers their valuable customers a special loan interest rate as low as 15%. Facilitating customers to make their real estate dreams come true, Home Lands Holding has always provided the best of facilities. Even amidst a crisis situation, the demand for real estate is expected to keep rising. The new landscapes of the industry following the pandemic seem to parallelly evolve and escalate with the effects of the economic crisis and thus, providing potential buyers with the necessary facilities would keep them from being reluctant or slow with their real estate decisions.
The joint venture was entered into at a simple ceremony held at the Home Lands head office in Battaramulla. Seen in the picture are (From left to right) Mr. Rajika Nishantha - Mortgaged Advisor (HNB), Mr. Sampath Dodanwela – Manager – Business Development – Home & Personal Loans (HNB), Mr. Asitha Fernando - Manager - Home & Personal Loans (HNB), Mr. Kanchana Karunagama - Assistant General Manager - Personal Financial Services (HNB), Mr. Sanjay Wijemanne - Deputy General Manager - Retail & SME Banking (HNB), Mr. Nalin Herath – Managing Director (Home Lands Group of Companies), Mrs. Harshani Herath – Director (Home Lands Group of Companies), Mrs. Lanka Jayasinghe – Director (Home Lands Group of Companies), Mr. Mario Anthony Offen – Chief Marketing Officer (Home Lands Holding), Mr. M.R.D. Bandara – Manager, Bank Loans (Home Lands Holding).